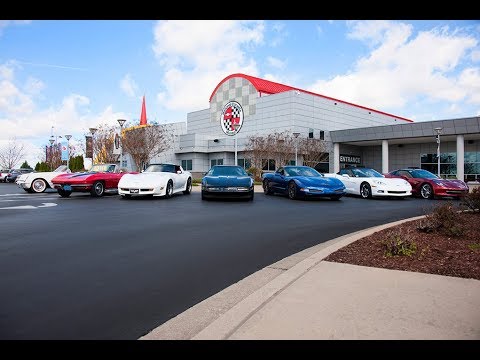 Location:
350 Corvette Dr.
This home for America's Sports Car features over 70 Corvettes showcased in periodic settings. See mint classics, prototypes, rare finds and racing champs. Families will enjoy the KidZone with hands-on activities for children. A Corvette is available in the lobby for photo ops and so you can "try one on for size." For an additional fee, take a ride in your choice of one of the Museum's historic Corvettes (available seasonally) or try out the new Racing Simulator where you 'drive' an actual C6 Corvette. 
Pickup a few souvenirs in their Corvette Store, grab a bite to eat in the Stingray Grille (coming 2021) and even register to win your own 'Vette! After your tour, head over for some family fun with high-speed go kart racing at the NCM Kartplex located at the adjacent Motorsports Park.
To complete the Corvette trifecta in Bowling Green, make plans to tour the GM Corvette Assembly Plant once health guidance deems it safe to resume public tours, and schedule drive time at the Motorsports Park to take a lap in your own vehicle or get behind the wheel of a track Corvette, all 2020 mid-engine C8 Corvettes! 

The Bowling Green and Corvette communities were shocked by the sinkhole that opened under the Skydome on February 12, 2014, but the iconic room under the red spire is open with a viewing window in the floor, offering a glimpse at the cave below. Plan your visit now to see the interactive "Corvette Cave-In" exhibit, all of the Corvettes that fell in as well as the 1962 currently undergoing restoration.
Amenities

General Information

Discount Rates Available
Handicap Accessible
Military Rates